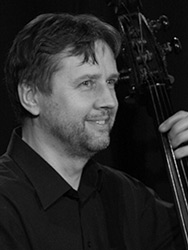 bass player is a graduate of the Frederick Chopin Conservatory in Warsaw.
With Central Heating Trio he has won prizes in The Europe Jazz Competition in Belgium and The European Jazz Competition in Leverkusen – Germany.
1989-1991 was a member of Kazimierz Jonkisz Quartet, 1991-1993 has played with the Quintessence Quintet and 1992-1995 has played with the Kuba Stankiewicz Quartet with whom he recorded "Northern Song" (GOWI Records 1994) – voted best record of the year by the reader's pool of Polish Jazz Forum Magazine.
Cegielski also worked with Ewa Bem, Tomasz Stanko, Zbigniew Namyslowski, Wojciech Karolak, Henryk Miskiewicz, Zbigniew Preisner, Jan AP Kaczmarek.
For many years Cegielski devoted his time to jazz and classical music and played with the top-ranked Sinfonia Varsovia Orchestra, with whom he recorded several records under the direction of Lord Yehudi Menuhin, Krzysztof Penderecki, Jerzy Maksymiuk.
He recorded on the soundtracks of Krzysztof Kieslowki's movies "White" and "Red", and also recorded a film music with jazz trumpeter Tomasz Stanko – "A Farewell to Maria" (GOWI Records).
In 1994 he received annual "Krzysztof Komeda Award" by the Polish Culture Foundation for his significant musical talent.
In 2020 awarded with Silver Cross of Merit for the glory and development of the Republic of Poland.
He has been playing with the Andrzej Jagodzinski Trio since 1993.
Starting 1994 Cegielski has been also teaching double-bass at the Faculty of Jazz of the Chopin High School of Music in Warsaw, and since 2005 he serves as a director of this Jazz Faculty.
Selected discography:
Sinfonia Polonia I.J. Paderewski – Sinfonia Varsovia, cond. J. Maksymiuk, Polskie Radio S1
Gala Concert Sevilla '93 – Sinfonia Varsovia, cond. K. Penderecki, Polskie Radio S1
Birthday – Quintessence (Best CD of the 1992 – Jazz Forum Magazine readers pool), E. Kulm Jazz Productions
Northern Song – Kuba Stankiewicz Quartet – (Best CD of the 1993 – Jazz Forum Magazine readers pool), GOWI Records
Made in Poland – Jan Ptaszyn Wroblewski, GOWI Records
A Farewell to Maria – Tomasz Stanko, GOWI RecordsMore Love – Henryk Miskiewicz, Black Label Records
Quiet City – Wojtek Staroniewicz Quartet, Polonia Records
Chopin – Andrzej Jagodzinski Trio – (Best CD of the 1994 – Jazz Forum Magazine readers pool), Polonia Records
Christmas – Andrzej Jagodzinski Trio, Polonia Records
I want to be happy – Piotr Cieślikowski Quartet, Polonia Records
Chopin – Live at the National Philharmonic – Andrzej Jagodziński Trio, Polonia Records
Kolęda na caly rok – Ewa Bem, KOCH International
Pestka – muzyka Wojciecha Borkowskiego do filmu Pestka w reżyserii Krystyny Jandy, BMG Ariola Poland
Deep Cut – Andrzej Jagodziński Trio, CD Sound Int.
Beeing confused – Krzysztof Herdzin Quintet, CD Sound Int.
Duety – Irena Santor, Pomaton/EMI
Koncert Inaczej – Kasia Kowalska, Polygram/Polska
Szeptem – Anna Maria Jopek, Polygram/Polska
Uczucia – Michał Bajor, MTJ Records
Chopin Once More – Andrzej Jagodziński Trio, ZPR Records
Avec le temps, 1999, Aneta Łastik, ZPR Records
Giovanni Mirabassi & Andrzej Jagodziński Trio, 2002, Dreadlines
Tango, 2004, Sinfonia Viva, DUX
C Minor, 2005, Giovanni Mirabassi & Andrzej Jagodziński Trio, ProFonica
Andrzej Kurylewicz z cyklu Wielcy Kompozytorzy Filmowi, 2008, Andrzej Jagodziński Trio, orkiestra Sinfonia Viva, AGORA SA
Krzysztof Komeda z cyklu Wielcy Kompozytorzy Filmowi, 2008, Andrzej Jagodziński Trio, orkiestra Sinfonia Viva, AGORA SA
Warownym grodem, 2009, Agnieszka Wilczyńska, Andrzej Jagodziński Trio, Wydawnictwo WARTO
Chopin – Jagodziński: Sonata b-moll, 2009, Andrzej Jagodziński Trio, AGORA SA
Chopin. Les Brillantes, 2010, Andrzej Jagodziński Trio, SRMT
Muzyka Polska, 2011, Andrzej Jagodziński Trio, Orkiestra Smyczkowa AUKSO oraz Grażyna Auguścik, Jadwiga Kotnowska, Anna Sikorzak-Olek, SRMT
Tranquillo. Staroniewicz Jagodziński Rajski, 2012, Wojciech Staroniewicz, Andrzej Jagodziński Trio, Polska Filharmonia Kameralna Sopot, Allegro Records
Strobel Kofta Wołek, 2013, Janusz Strobel, Anna Stankiewicz, SRMT
Andrzej Jagodziński "Koncert fortepianowy g-moll", 2013, Andrzej Jagodziński Trio, Orkiestra Filharmonii Narodowej w Warszawie, SRMT
Grazyna Auguścik & Jagodzinski Trio – "Szeptem" (2016)