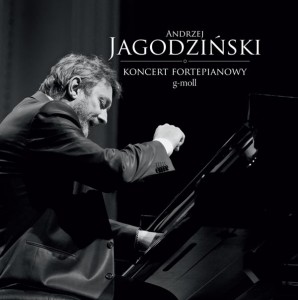 Piano concerto g-moll by Andrzej Jagodziński is unquestionably an artistic masterpiece enriching the phonographic market.
Its originality starts with the instrumental jazz trio of Andrzej Jagodziński on piano, Adam Cegielski on double bass and Czesław "Mały" Bartkowski on drums, combined with a symphonic orchestra.
In this concerto – Jagodziński, who is a well established jazz musician, emerges also as an outstanding romantic composer.
He is searching for novel stylistic connections and in a surprising way joins two seemingly distant styles of jazz and classical music.
Experiences gained in his previous musical endeavors, where he has offered jazz interpretation of the classical works of masters such as Chopin or Beethoven, have most likely inspired him to search for his very own style of musical expression. Themes full of melodic inventiveness in a natural way inspire luscious harmonic improvisations. Virtuosity combined with passion, imagination and musical sensitivity penetrates with lyricism.
Creates a very unique mood and a new genre – romantic jazz. Who else than Andrzej would know how to be so multidimensional…
Liner notes by Janusz Olejniczak
Andrzej Jagodziński – piano
Adam Cegielski – bass
Czesław "Mały" Bartkowski – drums
National Philharmonic Orchestra
Wojciech Zieliński – conductor
Recording of the National Philharmonic Orchestra: CD-ACCORD – Aleksandra Nagórko, Joanna Popowicz
Recording of the Andrzej Jagodziński Trio and harp: Studio Realizacji Myśli Twórczych, 2013 r.
Sound engineering and mastering: Piotr Semczuk
Photo and cover design: Lechosław Carnelli
CD released by Studio Realizacji Myśli Twórczych
The CD is available at www.studiormt.net
---
I – Allegro maestoso


II – Romanza


III – Allegro, Vivace presto