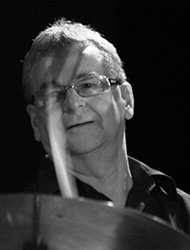 Czesław Bartkowski (b. 19 April 1943 Łódź) Graduated from High School of Music in Wrocław (profesor Edmund Treichel). Jazz drummer continuingly playing since 1960. One of the most important personalities of the Polish jazz stage. As for 1992 he has been also teaching drums at the Chopin High School of Music in Warsaw; head of the Faculty of Jazz at that School.
He started learning music at age of six. As a child was member of a mixed Male and Boy Cathedral and Radio Wrocław Choir conducted by a great choirmaster Edmund Kajdasz.
He made his debut as a jazz drummer in 1960 with Jerzy Paklulski "Far Quartet" and ever since he has been performing with outstanding Polish and foreign musicians.
As from 1993 – member of Andrzej Jagodzinski Trio.
Czesław Bartkowski endorses PAISTE cymbals and OSCA sticks.
Member of many great jazz formations, i.a.:
• Zbigniew Namysłowski Quartet
• Krzysztof Komeda Quintet
• Vocal Group Novi Singers
• Niemen Enigmatic by Czesław Niemen
• Michał Urbaniak Group, Michał Urbaniak Constellation
• Zbigniew Namysłowski Quintet
• Tomasz Stańko, Adam Makowicz Unit Trio
• Karolak-Szukalski-Bartkowski Trio
• Trio BCD (Bartkowski-Cudzich-Dutkiewicz)
• Bliziński-Wegehaupt-Bartkowski Trio
• "InFormation" by Sławomir Kulpowicz
• Mainstream by Jan Ptaszyn Wróblewski
• Polish Radio Jazz Studio
He has been playing and registering with oustanding Polish jazz vocalists, ie.: Ewa Bem, Grażyna Auguścik, Urszula Dudziak, Agnieszka Wilczyńska, Anna Stankiewicz , Stanisław Sojka. Also worked with foreign musicians, i.e. Art Farmer, Aladar Pege, Ben Webster, Clark Terry, Joe Newman, Freddie Hubbard.
He performed at many worldwide jazz festivals (in USA, Israel, Etiopia, New Zealand, Australia, Japa, India and all over the Europe i.e.: Montreux, The North Sea, Berliner Jazz Tage, Molde, Comablain-La-Tour, Warsaw Jazz Jamboree).
He is a Honorary Member of Tauranga Jazz festival Society and The New Orleans Clubs New Castle on Tyne England.
Awards:
1961 – I Prize at the National Cultural Students Festiwal in Gdańsk
1966 III Prize at the International Competition for Modern Jazz organized by Friedrich Gulda in Vienna
1981 Golden Helicon Award
Decoration of Merit for Polish Culture
I Individual Prize for Worthy Contribution to Artistic Education Development awarded by the Artistic Education Center
Grand Prix Melomani 2013, Łódź, Poland – to honor all career achievements
2017 – Silver Medal Gloria Artis for outstanding contribution to Polish culture
2020 – Silver Cross of Merit for the glory and development of the Republic of Poland
2020 – Złoty Fryderyk in category Jazz, to honor all career achievements
Selected discography:
Czesław Bartkowski: Drums Dream (1976 Polskie Nagrania Muza; CD 2006
Jazz Greetings From The East (1964; with Krzysztof Komeda-Trzciński; Fontana)
Lola (1964; with Zbigniew Namysłowski; Decca)
Zbigniew Namysłowski Quartet (1966; Muza)
Zbigniew Namysłowski Quartet (1966; Muza)
Novi: Torpedo (1970; with Novi Singers; Muza)
Michał Urbaniak Group – Live (1971; Muza)
Krzysztof Komeda – PolJazz Archives (1972)
Parathypus B (1973; with M. Urbaniak; Intercord)
Inactin (1973; with M. Urbaniak; Intercord)
M. Urbaniak: Constellation – In Concert (1973; Muza)
Podróż na Południe (1973; with Michał Urbaniak & Wojciech Karolak)
Five, Four, Three (1974; with Novi Singers; Muza)
Atma (1974; with Michał Urbaniak; CBS)
Fusion (1974; with Michał Urbaniak; CBS)
Easy (1975; with Wojciech Karolak; Muza)
Zbigniew Namysłowski: Kujaviak Goes Funky (1975; Muza)
Unit (1975; zwithAdamem Makowiczem; PolJazz)
SPPT Chałturnik (1975; with Jan Ptaszyn Wróblewski; Muza)
Aquarium Live no 2: Mainstream & K. Magnuson (1977; with Jan Ptaszyn Wróblewski; PolJazz)
Clark Terry Big Band (1978; PolJazz)
Wave (1980; with Marek Bliziński; PolJazz)
In/Formation I (1981; with Sławomir Kulpowicz, PolJazz)
Mosquito (1981; with Extra Ball. PolJazz)
Blublula (1981; with Stanisław Sojka; Muza PJ nr 63)
Tomasz Stańko: Music 81 (1982; Muza)
A i J (1982; with T. Stańko)
In'Formation II (1982; with S. Kulpowicz; PolJazz)
Grand Standard Orchestra (1982; with Jan Ptaszyn. Wróblewski; PolJazz PSJ)
Sake (1984; with Zbigniew Wegehaupt; PolJazz)
Time Killers (1984; Trio Karolak-Szukalski-Bartkowski; LP Helicon; 2006 CD Muza)
Tina Kamila (1985; with T. Szukalski; Muza)
Tina Blues (1986; with Tomasz Szukalski; Poljazz/Emscherland PSJ)
Continuation (1987; with Henryk Majewski & Robert Majewski; Muza)
W. Karolak Trio: Utwory Wasowskiego i Przybory (2003; Universal Music, Polskie Radio)
Chopin (1993; Andrzej Jagodziński Trio; Polonia Rec.)
Christmas (1994; A. Jagodziński Trio; Polonia Rec.)
Chopin-Live at The National Philharmonic (1995; A. Jagodziński Trio; Polonia Rec.)
DEEP CUT (1997; Andrzej Jagodziński Trio; CDSound Int.)
CHOPIN ONCE MORE [Metamorphosis (1999; Andrzej Jagodziński Trio, featuring  Janusz Olejniczak; ZPR Rec.)
Giovanni Mirabassi & Andrzej Jagodziński (2002; Dreadlines)
Giovanni Mirabassi & Andrzej Jagodziński C Minor (2005; ProFonica )
Warownym grodem (2009; with Agnieszka Wilczyńska + Andrzej Jagodziński Trio; Wydawnictwo WARTO)
Chopin – Jagodziński: Sonata b-moll. (2009; Andrzej Jagodziński Trio; AGORA SA )
Chopin 'Les Brillantes' (2010; Andrzej Jagodziński Trio; SRMT)

Muzyka Polska (2011; Andrzej Jagodziński Trio with  AUKSO Chamber Orchestra and G. Auguścik, J. Kotnowska, A. Sikorzak-Olek; SRMT)

Strobel-Kofta-Wołek – with Janusz Strobel and Anna Stankiewicz (2013, SRMT)

Andrzej Jagodziński: Piano concerto G minor (2013 Andrzej Jagodziński Trio and Warsaw National Philharmonic Orchestra; SRMT)

Grazyna Auguścik & Jagodzinski Trio – "Szeptem" (2016)