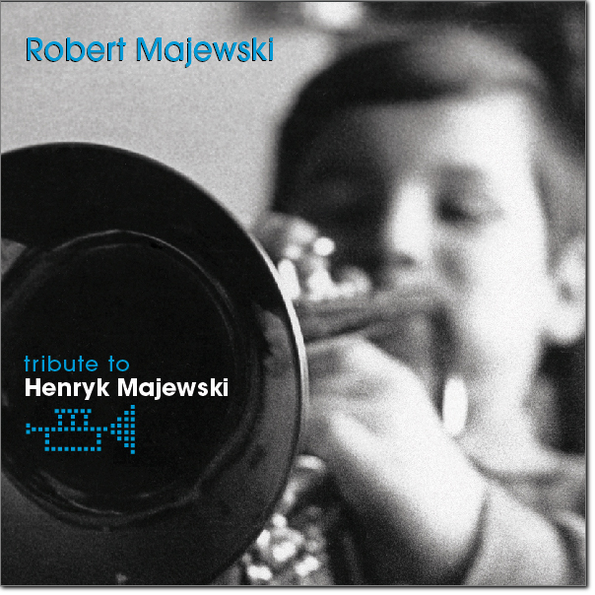 2016 was the 80th anniversary of the birth of Henryk Majewski, an outstanding trumpeter, leader of Old Timers, Swing Session or Big-Band Stodoła, longtime president of the Polish Jazz Association, activist STOART, long-time director of the Jazz Jamboree festival, as well as a teacher, co-founder of the Jazz Department and deputy director in the Fryderyk Chopin State Music School at Bednarska in Warsaw. Henryk Majewski also managed jazz workshops in Chodzież and Puławy for many years.
This anniversary inspired his son Robert to record the album "TRIBUTE TO HENRYK MAJEWSKI".
The band's composition is a constellation of Polish jazz stars. It is not accidental, because the outstanding pianist Andrzej Jagodziński (a member of the Old Timers and Swing Session for many years) and Czesław "Mały" Bartkowski have cooperated with Henryk Majewski for over 30 years. Adam Cegielski (outstanding double bass player of the Jagodziński Trio) continues the work of Henryk Majewski as the deputy director of the Fryderyk Chopin State Music School at Bednarska in Warsaw.
With the legend of Polish jazz, Jan Ptaszyn Wróblewski, Henryk Majewski worked for many years in many of his projects such as "Made in Poland", S.O.S., Songs of H. Wars, etc.
Henryk Miśkiewicz, the star of the Polish saxophone, has also accompanied Henryk Majewski on his musical path since the time of the Big-band Stodola through Swing Session and various other formations.
The star line complement his sons, Robert Majewski, a leading Polish trumpeter, winner of the Fryderyk 2012 award for best jazz album "My One And Only Love" and the excellent pianist Wojciech Majewski, with equal ease moving in jazz and the classics.
Robert Majewski – flugelhorn, trumpet
Jan "Ptaszyn" Wróblewski – tenor saxophone
Henryk Miśkiewicz – alto saxophone
Andrzej Jagodziński – piano
Wojciech Majewski – piano
Czesław "Mały" Bartkowski – drums
Adam Cegielski – bass
Recorded live at Jazz Cafe in Łomianki, June 10, 2015 and at Studio Tokarnia July 6, 2015
Concert recording: Arek Kopera i Michał Kush /Tokarnia Musie Production.
Studio recording, mix and mastering: Jan Smoczyński
Photos: Marek Karewicz, Bogdan Augustyniak, Krzysztof Wierzbowski, family archive
Cover: Lechosław Carnelli
Publisher: Studio Realizacji Myśli Twórczych
CD available on-line – www.studiormt.net
---
1. Poszukiwacze Zaginionej Frazy

2. U Michała

3. Kropelki

4. Alikot

5. Z Poniedziałku Na Wtorek

6. Stompin at the Savoy

7. Cheesecake

8. Love song from "Apache" / J.J. Dixie

9. I Remember Clifford