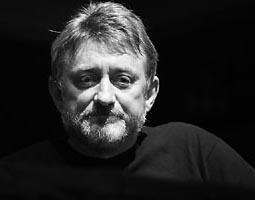 One of the best pianists in Poland, composer and arranger was born in 1953. He received his degrees from the Fryderyk Chopin Conservatory where he studied french horn while already engaged by the Polish Radio and TV Symphony Orchestra.
In 1979 Jagodzinski participated in the Old Jazz Meeting Zlota Tarka and received first prize for "pianist of the year".
He has played with some of the best jazz groups in Poland including The Old Timers, Swing Session, String Connection, The Zbigniew Namyslowski Quartet, The Janusz Muniak Quartet, The Big Warsaw Band, Quintessence, The Tomasz Szukalski Quartet, The Jan Ptaszyn Wroblewski Quartet and Jarek Smietana's Polish All Star.
Jagodzinski has toured in most European countries, Australia, and the United States, India, Kuwait, Cuba and the former Soviet Union and has been representing Polish jazz for the past 16 years at: Jazz Yatra-Bombay, Ost-West Nurnberg, Jazz in Europe-Paris, Skane Festivalen in Malmo, Edinburgh Art Festival, Ankara Music Festival, Leverkusener Jazz Tage, Istanbul International Festival and in all the major Polish jazz festivals.
Since 1981 Jagodzinski has been performing with "Poland's first lady in jazz", Ewa Bem.
In 1993 Jagodziński founded his own trio with Adam Cegielski on bass and Czeslaw Maly Bartkowski on drums. The same year Jagodzinski Trio recorded the CD Chopin, which started in Poland a 20-years-lasting wave of absorbing the music of Fryderyk Chopin into a jazz world.
The sublime art and strong impact of the CD Chopin was awarded with several titles
– Best CD of the year 1994 – readers pool of the Jazz Forum Magazine
– "Fryderyk 1994" – Polish Music Award
– Best jazz CD of the 20. years of Fryderyk award as result of the voting by the music fans in 2014

Another recording "Live at the National Philharmonic" was created in 1995, followed by "Chopin Once More" in 1999.
In 2008 the Trio celebrated their 15th anniversary. On this occasion they released an album called "Chopin – Jagodziński – Sonata in B flat minor", which presented a jazz vision of Chopin's great composition. The year 2010 witnessed a 2-CD album "Chopin – Les Brillantes", which summarized the band's 20-year-long journey with Chopin's music. It was also a tribute to the composer on the 200th anniversary of his birth. All three CDs quickly attained the status of Golden Disc.
In November 2013, Jagodzinski's very own work came to life to celebrate the band's 20th anniversary performance. "Andrzej Jagodziński – Piano Concerto in G Minor" – a composition for a jazz trio and symphony orchestra was recorded with the renowned Warsaw Philharmonic Symphony Orchestra conducted by Wojciech Zielinski.
Following the idea of blending together the two genres – classical and jazz, Jagodzinski composed "Requiem" for the jazz trio, chamber choir and three vocalists. That monumental work had its premiere in October 2018 performed live at NOSPR by Jagodzinski Trio, Camerata Silesia The Katowice City Singers' Ensemble conducted by Anna Szostak and Grażyna Auguścik, Agnieszka Wilczyńska and Wojciech Myrczek.
Jagodzinski's most recent musical idea is polyphonic improvisation performed by his Trio. Following that vision, a CD with their explorations of music by J.S. Bach should be released soon.
Moreover, Jagodzinski has adapted several pieces by J.S. Bach for the jazz Trio, vocalist and an early music ensemble. These arrangements premiered on September 18th, 2020, performed by Jagodznski Trio, Agnieszka Wilczynska and Orchestra Musicae Antiquae Collegium Varsoviense conducted by Marcin Sompolinski.
Since 1993 Jagodzinski Trio has won acclaim all over the world. Traveling across the globe, the band performed at various music festivals including: "Jazz Jamboree" (Poland), "Grant Park Music Festival" (USA), "Kaunas Jazz Festival" (Lithuania), "Musikfest Bremen" (Germany), "Israel Festival" (Israel), "White Nights Festival" (Russia), "Cervantino" (Mexico), "Jazz à Liège" (Belgium), "Ankara Music Festival" (Turkey), "Brubeck Festival" (USA), "Nine Gates Festival" (China), "Chicago – Millennium Park" (USA) and "Nordlysfestivalen" (Norway).
Jazz versions of Chopin's music were also presented in the best classical music venues:
Carnegie Hall, The Great Hall of Moscow Conservatory, Wiener Konzerthaus, National Concert Hall in Taipei or Nezahualcoyotl Hall in Mexico.
AWARDS
1979      – ZŁOTA TARKA
1994      – FRYDERYK for the CD "CHOPIN", category "Jazz CD of the year"
1995      – MATEUSZ – Polish Radio Program III Award
1995      – MELOMANI – Melomani Society Award a an Artist of the year
2001      – FRYDERYK award – "Jazz musician of the year"
2005      – GLORIA ARTIS – award of the The Minister of Culture and National Heritage
2012      – Award of the City Warsaw
2020      – Silver Cross of Merit for the glory and development of the Republic of Poland
Selected discography
"Ballady Bułata Okudżawy" (1977; Aneta Łastik; MUZA Polskie Nagrania)
"Be a Man" (1981; Ewa Bem & Swing Session; Polskie Nagrania)
"Live in Warsaw" (1986; String Connection; Polskie Nagrania)
"Old Timers" (1989; Old Timers; Polskie Nagrania)
"Birthday" (1992; Quintessence;  Eryk Kulm Jazz Productions)
"Live in Hades" (1993; Jan Ptaszyn Wróblewski Quartet; Polonia Records)
"Chopin" (1993; Andrzej Jagodziński Trio; Polonia Records)
"Christmas" (1994; Andrzej Jagodziński Trio; Polonia Records)
"Kolęda na cały rok" (1994; Ewa Bem; Koch International)
"Chopin-Live at The National Philharmonic" (1995; Andrzej Jagodziński Trio; Polonia Records)
"Quiet City" (1995; Wojtek Staroniewicz Quartet; Polonia Records)
"Kakaruka" (1995; Henryk Miśkiewicz; GRAMI)
"Koncert Inaczej" (1995; Kasia Kowalska; Polygram)
"Do widzenia, do jutra" (1996; Mariusz "Fazi" Mielczarek; Black Label Records)
"Piosenki lwowskie" (1996; Włodzimierz Nahorny; Polonia Records)
"Duety" (1996; Irena Santor; Pomaton EMI)
"Szeptem" (1998; Anna Maria Jopek; Polygram)
"Tribute to Marek & Wacek" (1998; Marcin Masecki, Andrzej Jagodziński; Polonia Records)
"Chopin once more" (1999; Andrzej Jagodziński Trio, gość specjalny – Janusz Olejniczak; ZPR Records)
"Avec le temps" (1999; Aneta Łastik; ZPR Records)
"Wierny sobie" (2002; Janusz Strobel; Polskie Radio SA)
Giovanni Mirabassi & Andrzej Jagodziński (2002; Dreadlines)
"Tango" (2004; Sinfonia Viva; DUX)
"Straszni Panowie Trzej" (2004; Andrzej Łukasik, Janusz Szrom; AGORA SA)
"Uniesienie" (2005; Henryk Miśkiewicz; GRAMI)
"C Minor" (2005; Giovanni Mirabassi & Andrzej Jagodziński Trio; ProFonica)
"More Love" (2005; Henryk Miśkiewicz; Black Label Records)
"Remembrances" (2005; Henryk Miskiewicz; Black Label Records)
"Circle" (2007; Piotr Wojtasik; SOJAZZ)
"Cicho, cicho pastuszkowie" (2007; Janusz Szrom, Joanna Trzepiecińska; AGORA SA)
"Andrzej Kurylewicz z cyklu Wielcy Kompozytorzy Filmowi" (2008; Andrzej Jagodziński Trio, orkiestra Sinfonia Viva; AGORA SA)
"Krzysztof Komeda z cyklu Wielcy Kompozytorzy Filmowi" (2008; Andrzej Jagodziński Trio, orkiestra Sinfonia Viva; AGORA SA)
"Pieśni rosyjskie" (2009; Aneta Łastik; MUZA Polskie Nagrania)
"Warownym grodem" (2009; Agnieszka Wilczyńska, Andrzej Jagodziński Trio; Wydawnictwo WARTO)
"Muzyka Polska" (2011; Andrzej Jagodziński Trio, Orkiestra Smyczkowa AUKSO oraz Grażyna Auguścik, Jadwiga Kotnowska, Anna Sikorzak-Olek; SRMT)
"Tranquillo. Staroniewicz Jagodziński Rajski" (2012; Wojciech Staroniewicz, Andrzej Jagodziński Trio, Polska Filharmonia Kameralna Sopot; Allegro Records)
"Strobel Kofta Wołek" (2013; Janusz Strobel, Anna Stankiewicz; SRMT)
Andrzej Jagodziński "Koncert fortepianowy g-moll" (2013; Andrzej Jagodziński Trio, Orkiestra Filharmonii Narodowej w Warszawie; SRMT)
Grazyna Auguścik & Jagodzinski Trio – "Szeptem" (2016)