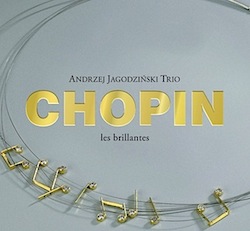 "If Chopin was really a composer for the right hand only, as Wagner grouchily complained, then perhaps Andrzej Jagodziński has provided a missing accompaniment. These are not jazzed-up interpretations of Chopin compositions, but a set of jazz originals inspired by the great Pole's most evocative pieces."
– Brian Morton, Jazz on CD, November 1994
The idea to try to explore jazz interpretations of masterpieces by the Great Polish Romantic Composer has been deep on Andrzej Jagodzinski's mind for ages, patiently awaiting its realisation. However the concept definitely needed a meeting of kindred spirits with a similar approach to the music. And it looks as if we finally succeeded – here we are with our fifth record from Chopin's Collection. This project has been magically germinating within us for the last fifteen years.
We released our first CD "Chopin" in 1994 which became a bestseller (Best Record '94 Award for the disc "Chopin" – "Jazz Forum Magazine" readers poll and "Fryderyk'94" – Polish Show Business Award for the disc "Chopin", as well as Laurel "Melomani '94" – by Association of Jazz Music Fans in Łódź). At this point our adventures were only about to begin… Chopin simply conquered our minds.
In 1995 we recorded the second "Chopin" – "Andrzej Jagodziński Trio: Chopin – Live At The National Philharmonic", and then next projects followed: "Chopin Once More – Special Guest Janusz Olejniczak" (1999), which was recognized a Golden Disc 2000 Year and had its French edition as "Chopin-Metamorphosis Andrzej Jagodzinski Trio – Janusz Olejniczak".
In 2009 the time had finally come to record the great "Sonata in B flat minor".
While recording our first album, we were aware we were walking on slippery ground, we couldn't foresee whether or not the audience were ready for such an experiment, nor to what extent. However we were continuously presenting our music: first in Europe and then – encouraged by the zeal of our audience – throughout the world: Mexico and Siberia, USA, Argentina and China, Lebanon and Izrael…
We played Our Chopin in The Great Hall of the Moscow Conservatory, but also out in the open air in Chicago Park.
Now, having fifteen years of experience and our fans' approval, we needn't be worried – there seems to be no risk! The idea has been proved, interpretations have become so well engrained, some arrangements have been enriched and there is no doubt that it is possible to play them as jazz standards – nobody will now blame us for "ruining monuments".
Therefore we decided to recapitulate our experience and approach to Chopin's works once again, organizing the material in two separate performances.
These two discs – together with "Sonata in B flat minor" – fully reflect our actual comprehension of The Great Romantic's work, which continue to stimulate us both intellectually and emotionally. It still does! – Therefore we have not uttered our last word!
We invite you to immerse yourselves into a marvelous harmony of Chopin's music!
We dedicate this album to our Maestro and we are very happy to pay homage to him on his 200th anniversary!
Andrzej Jagodziński – piano
Adam Cegielski – bass
Czesław "Mały" Bartkowski – drums
The CD is available at – www.studiormt.net
CD1 – 1. Prelude E minor op. 28 nr 4

CD1 – 2. Nocturn E flat major op. 9 nr 2

CD1 – 3. Etude B minor op. 25 nr 10

CD1 – 4. Mazurka F minor op. 68 nr 4

CD1 – 5. Prelude C minor op. 28 nr 20

CD1 – 6. Nocturn B major op. 9 nr 3
---

CD2 – 1. Polonaise C sharp minor op. 26 nr 1 

CD2 – 2. Polonaise C minor op. 40 nr 2

CD2 – 3. Nocturn F sharp minor op. 48 nr 2

CD2 – 4. Polonaise-Fantasia A flat major op. 61

CD2 – 5. Prelude B minor op. 28 nr 6

CD2 – 6. Etude A minor op.10 nr 2

CD2 – 7. Mazurka G minor op. 67 nr 2

CD2 – 8. Walc Des-dur op. 64 nr 1
Back to "Records".